There are plenty of reasons that our customers love Mini vehicles. Mini vehicles are fun to drive and their unique design always turns heads on the road in Maryville, TN. At Mini of Knoxville, we also have Mini vehicles with an additional exciting feature: all-wheel drive. All-wheel drive provides extra traction, improving handling and helping your vehicle maneuver when the roads are bumpy or the weather is challenging in Farragut. Here are the highlights from our selection of Mini vehicles with all-wheel drive.
Brace for Adventure with All-Wheel Drive MINI Options in Knoxville
It's hard not to love everything about the MINI lineup. Whether you're a fan of the iconic and unique design or enjoy the innovations inside, a MINI model produces a one-of-a-kind experience for your drive. However, you might not expect MINI vehicles to manage off-road production as well as they do, thanks to their available all-wheel drive configuration called ALL4. All-wheel drive, or AWD, provides improved traction and handling, allowing you to navigate rough roads and inclement weather. Consider available AWD options from our MINI lineup today!
How Does the MINI ALL4 System Work?
The ALL4 system defaults to all-wheel drive from when you hit the road. MINI's AWD splits the engine power 50/50 from rear to front, allowing you to divert 100 percent of power to the front wheels when needed. The best way to experience this setup? Test drive the new MINI models that come equipped with the ALL4 system and see how you can maximize your control and handling!
Available MINI Models with the ALL4 System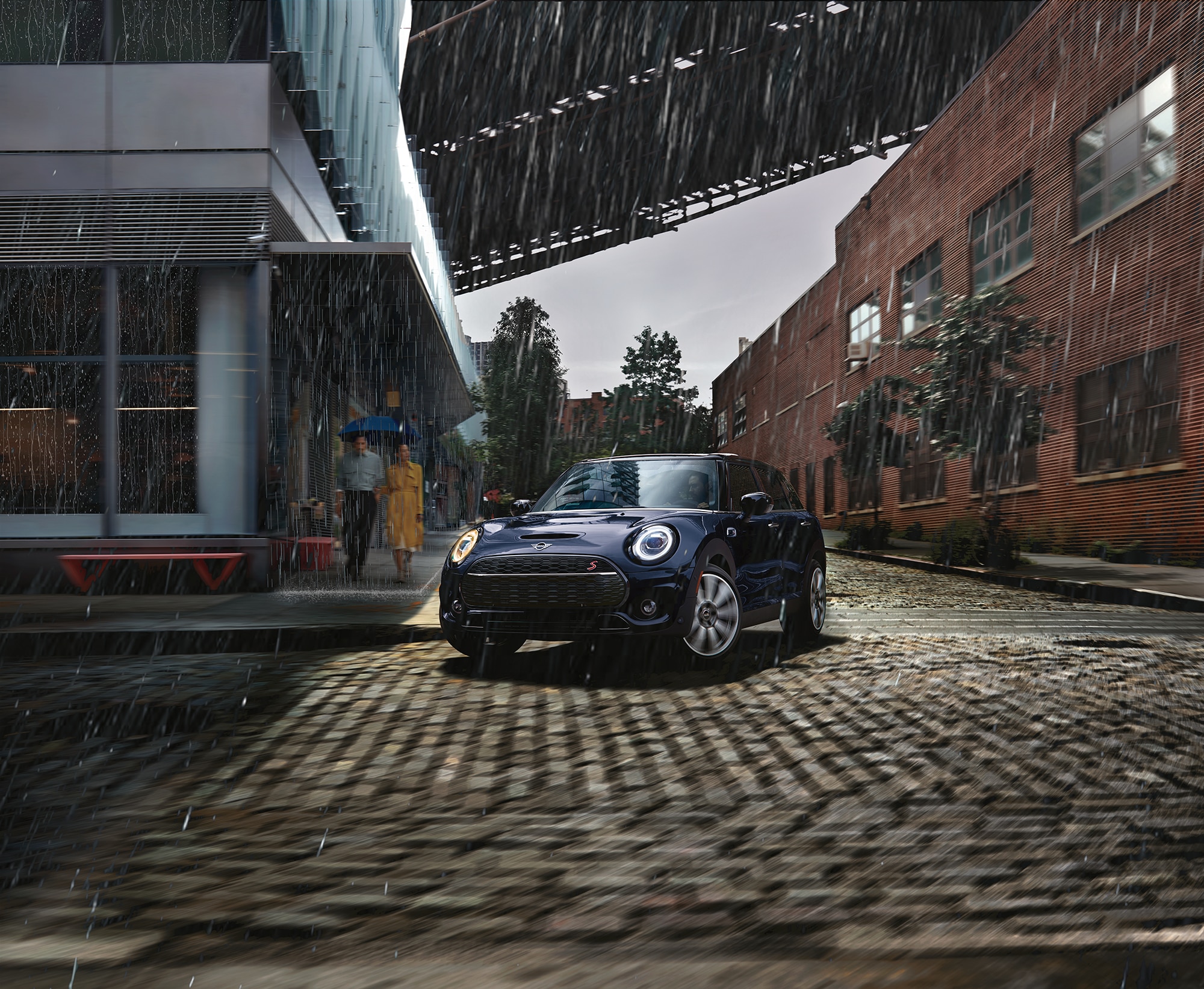 MINI Cooper Clubman ALL4 and Cooper S Clubman ALL4
The Clubman comes with the same standard powertrain as the Countryman, making the drive smooth and uninterrupted with an eight-speed automatic transmission. The Countryman accommodates plenty of cargo space for your travels, but you won't need to back away from challenges, thanks to the traction control featured with the all-wheel drive system!
Need capability and control you can rely on? Consider MINI model options today and test drive the ALL4 all-wheel drive system - no terrain is too tough for the MINI lineup to handle!
MINI Cooper Countryman ALL4 and S Countryman ALL4
With plenty of space and a can-do spirit, the MINI Cooper Countryman and S Countryman ALL4 brave the road and make the most of your drive. The lineup pairs with an eight-speed automatic transmission and utilizes a 2.0-liter four-cylinder engine that delivers 189 horsepower and 207 pound-feet of torque. Smooth acceleration feels seamless, thanks to the ALL4 system.
The Finance and Service You Need for Your All-Wheel Drive Mini
If you are interested in getting a MINI with all-wheel drive to take home to Lenoir City, you should make sure you talk to the staff at our Finance Center. Our team of finance experts can work with you to find the payment option that works best for your budget and lifestyle. If you are ready to apply for financing, you can do so quickly and easily on our website. If you have any questions about the application process, our Finance Center staff can answer them.
If you drive a MINI vehicle with all-wheel drive, it is essential to maintain your powertrain and keep it in ideal condition for years to come. That is why it is a great idea to keep up with your regular maintenance schedule and bring your vehicle to our Service Center. Our staff of expert technicians know Mini vehicles inside and out. They can ensure that your vehicle's entire drivetrain stays in optimal condition. They can also perform other essential maintenance, as well as major repairs when needed. Best of all, you can schedule service for your Mini from the comfort of your home by using our Schedule Service tool.
Test Drive a Mini with All-Wheel Drive Today
If a Mini with all-wheel drive sounds ideal to you, then you should visit Mini of Knoxville and take one on a test drive. A test drive is the best way to see for yourself if a vehicle is right for you. When you visit our dealership for a test drive, you can see for yourself how a Mini with all-wheel drive handles on the road. To schedule your test drive, be sure to contact us today!
Schedule A Test Drive
* Indicates a required field