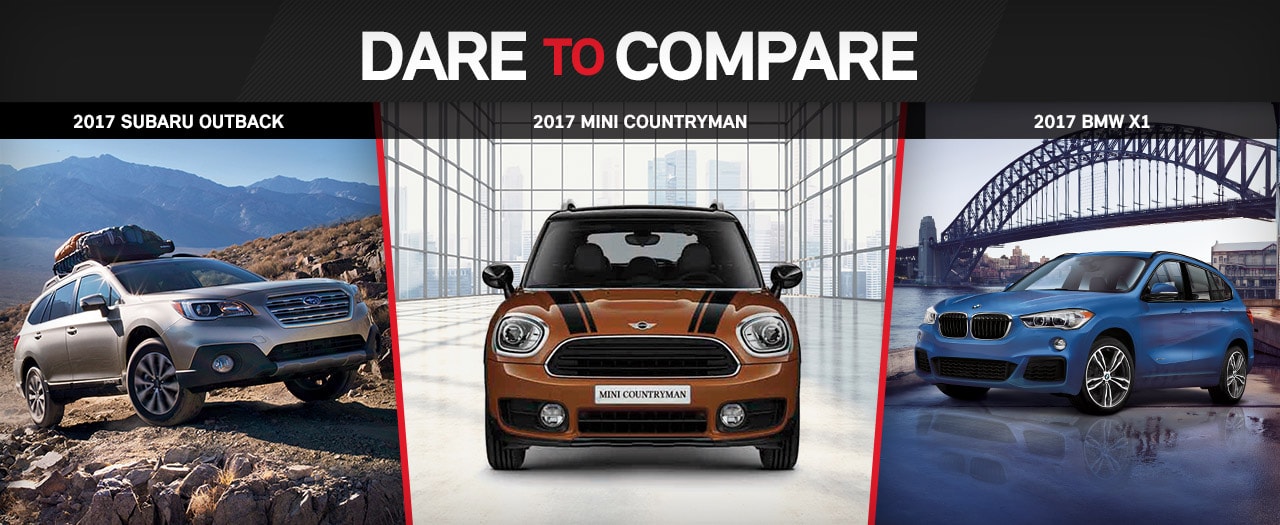 The MINI Countryman is arguably the best small family car on the market thanks to its precision handling, excellent fuel economy, and abundant space. The latest model boasts a unique design that stands out from the crowd. Starting at an affordable price, competitors like the

Subaru

Outback

don't stand a chance when it comes to value. Even luxury competitors, like the

BMW

X1

, find themselves outclassed by the new MINI Countryman.
MINI Countryman vs Subaru Outback
The MINI Countryman boasts plenty of peppy turbocharged engine options while the Subaru Outback's standard four-cylinder engine feels weak for the size of the vehicle.
When it comes to weight, the Countryman undercuts the Outback by more than 600 pounds.
As for convenience, the Countryman boasts available keyless start, a feature the Outback lacks entirely. Heated mirrors also come standard in the Countryman, another feature the not standard on the Outback.
Safety is key in the MINI Countryman, which comes with standard Rain Sensing Wipers. The Outback lacks any comparable feature.

MINI Countryman vs BMW X1
The MINI Countryman starts at under $28,000, making it a much more affordable choice than the BMW X1, which starts at nearly $36,000.
As for base curb weight, the BMW X1 comes in at a hefty 3,697 pounds while the Countryman weighs just 3,300 pounds.
While both the X1 and Countryman earn an EPA-estimated 32 mpg highway, the Countryman earns better city fuel economy with an EPA-estimated 27 mpg city.
Drivers that love precision handling will find the Countryman's six-speed manual transmission right up their alley. The X1 only comes standard with automatic transmissions.

The

MINI

Countryman

offers a roomy 47.6 cubic feet of cargo space along with seating for up to five passengers, making this car a great choice for families. The latest model year brings a new hybrid version of the Countryman as well. There's a lot to love about the latest MINI Countryman!